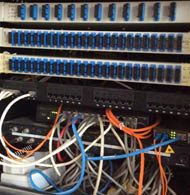 The Backbone Transmission Network (BTRAIN) Project is designed to facilitate the connection of the rural and semi urban areas to the National Transmission Backbone Infrastructure via fiber infrastructure.
The USPF implements this project through Public-Private-Partnership (PPP) with Implementers by offering subsidies determined through competition.
Objective
The objective is to extend broadband to the underserved/unserved areas.
Service Model
The subsidies are determined and awarded through a competitive bidding process. Each year, tender invitations are published for operators to compete for the available subsidies to deploy the fibre optic cables.
Benefits
The deployment of fibre optic cable in the target areas enhances network performance and quality of service.
Acceleration of service coverage in commercially unviable areas.
Increased/improved access to Internet in the target areas
Employment creation
Increased productivity
Enhanced ICT skills among beneficiaries
Beneficiaries are mainstreamed into global competitiveness
Accelerated socio-economic development
Locations
OFC LINKS
DISTANCE (Km)
BENEFICIARY POPULATION
BENEFICIARY INSTITUTIONS / ORGANISATIONS
Suleja - Izom
30
215,075

NNPC Pump Station
Government Science College
Izom Bricks and Clay Products Ltd
Financial Institutions
Public & Private Institutions
USPF projects on the route

Apo (Kukwaba) - Keffi
54
868,848

Transmission Company of Nigeria (TCN)
Government/LG Agencies
Five (5) Public & Private Institutions
Mobile Operators
Six (6) Commercial Banks
USPF projects on the route

Kano (Kumbotsho) - Dutse
115
439,774

University of Science and Technology, Wudil
Nigeria Police Academy, Wudil
Wudil L.G.A.
General Hospital, Wudil
Govt. Senior Sec. School, Wudil
USPF projects on the route

Minna (Tunga) - Bida
84
185,553

Government/LG Agencies
Eight (8) Public & Private Institutions
Mobile Operators
Five (5) Commercial Banks
USPF projects on the route

Total
283
1,709,250